FAQ
HOW DO I USE THIS PILLOW?

Generally we recommend using it alone under your neck. But everyone's neck is different, and if you have a soft or thin pillow, you may enjoy placing it underneath your EasySleeper for increased support. You should try it both ways and see what is most comfortable for you.

WHAT MATERIALS ARE USED IN THIS PILLOW?

There are no additional chemicals such as fire retardants embedded into our materials. We try to keep it as natural as possible, so have only used memory foam, polyester and cotton.

WHAT ARE THE PILLOW DIMENSIONS?

The standard pillow dimensions are 60x34x11x7cm.

DOES IT WORK FOR NECK AND SHOULDER PAIN?

Our EasySleeper Pillow will help to align your spine and rest the muscles in your head, neck and back. Customers report experiencing relief for neck pain in particular, but also shoulder pain and upper back pain.

DOES THE COVER HAVE A ZIPPER? IS IT WASHABLE?

Yes, it has a full length zipper. The cover is soft and easily washable in the machine.

CAN I BUY A PILLOW CASE FOR THIS PILLOW?

The Pillow comes with a cover that is removable and washable. You can also add a premium white scuba pillow case to your order that we know you'll LOVE!

DOES THIS PILLOW HAVE A CHEMICAL SMELL?

You should not notice any chemical smell when opening the pillow. If you do, please leave it out to air and it will disappear within a couple of hours.
Customer Reviews
Write a Review
Ask a Question
Filter Reviews:
pillow
neck pain
neck
head
couple
relief
pain
sleep
quality
nights
08/04/2020
Susan A.
United Kingdom
I recommend this product
Easy Sleep Pillow
I've brought many different types over the years. This is the best by far, great pillow brilliant sleep with it.
08/02/2020
Jovana
United Kingdom
I recommend this product
No more pain
This is a great pillow, no more neck pain. I love it!
08/01/2020
Amelia T.
United Kingdom
So glad I bought this!
So happy that I bought this pillow. After years of neck and back pain, I knew I needed to look into purchasing something more ergonomic and I'm very glad I chose this. My very first night using this pillow, I slept like a baby. The curvature around the neck and spine is supportive but soft and the material is high-quality, I feel this will last me many years. Thank you!
07/31/2020
Rachel R.
United Kingdom
So comfortable
From the first night I felt a massive improvement in my sleep. I had been suffering with awful neck pain which has now gone. Thoroughly recommend.
07/30/2020
zowie h.
United Kingdom
Great pillow
Took a couple of days to get used to but i love it now. No more neck and back pain I've spent lots of money on previous pillows some over treble the amount of this one and still no relief at night, this is great value for money and have already recommended it to family and friends.
AP
07/27/2020
Ashleigh P.
United States
Supports my neck and head
I definitely feel better supported than with my old contour pillow! having the wings on the side helps cradle my head so it stays in the right position and doesn't strain my muscles.
07/27/2020
Stacey H.
United Kingdom
Miracle pillow
I've suffered for months now,waking up with headache and a aching neck,Tried 2 pillows,1 pillow,thought they was something wrong me,until I got this pillow.Wow,I can't believe it,It took me a couple of nights to get use to it,and I'm now waking up neck and headache free.Thankyou so much xx
07/26/2020
christine S.
United Kingdom
Good nights sleep
For the first few hours of using the pillow I experienced discomfort in neck and shoulders. I had undisturbed sleep and woke up the next morning feeling much better. Now I am used to the pillow I cannot imagine going back to ordinary pillows which need to be plumped up.
07/24/2020
Bonita Y.
United States
Pillow
Luv it, have spinal stenosis & it sure has made a difference in my sleep thanks!
07/24/2020
Christine S.
United Kingdom
The Original EasySleeper Pillow
Excellent the pillow helped my neck and back problem straight away. The Pillow was that good I have ordered a 2nd pillow for my holiday home.
07/23/2020
Tracey R.
United Kingdom
Brilliant
Very comfortable sleeping well
07/07/2020
Suzanne D.
United States
Gratefully relieved that I FINALLY found the right pillow for me.
It was a long, long trial with far too many tribulations before I finally found the EasySleeper and gave it a try. It's true that the first morning on waking that my miserable neck experienced enough relief that I didn't dwell on it at all the entire day as I had for the entire month (and several more useless cervical specialty pillows later). So, I bought two pillowcases for it. That fabric cover is beyond description. It is the softest most comfortable fabric for a pillow I've ever even touch. I love the feeling of it against my bare skin. It's beyond divine. Then I pondered the condition of my lower back and my newly bum knee. I gave it thought all day, here on my third day after starting to sleep on the EasySleeper, that I'd give the X pillow a try. Thanks for this invention! I've zigged and zagged through my entire life in search of a pillow that doesn't affect my neck even more negatively than DDD was bringing it to ruin already. It's pretty bad as it is and it is a blessing beyond measure that it is helping even me. I wish I had known of this wonderful pillow years ago. Peace.
06/23/2020
Stefano L.
United Kingdom
Awesome Pillow Absolutely Brilliant! Communication and delivery slow but improving now!
I have suffered with neck, back, jaw and thoracic spine pain and spasm since a seriously violent whiplash in a simulator in April 1990. This pillow is amazing I first used it on 3rd June (my birthday) I had cancelled the order because there was little to no communication but then it arrived. And boy I'm I glad that it did. It is absolutely brilliant last night was the 15th night that I have slept using it and my neck back pelvis and jaw are gradually re-aligning themselves bit by bit. I am so much better I can't tell you how delighted I am. I have used a TEMPUR pillow £75 but it is a heavy and dense foam and always leaves me with a thumping head and a heavy feeling when I wake and cannot use it for more that an hour or so. The SleepEasy pillow is very light and is fabulously comfortable and when I wake I feel much lighter and brighter. In fact, I am so impressed with the SleepEasy pillow that I have suggested that they make a mattress and/or a mattress topper using the same memory foam. And have even offered to pay for a prototype topper to use and evaluate for them as I have tried so many different types of mattress's over the years . If you suffer with chronic pain you will well know that you will try anything to make it better. Finally, I know that the company have improved their delivery times as I recommended a friend buy one after having two nights of sleeping on my pillow. My friends pillow arrived after 5 or 6 days. I am so grateful that the pillow arrived and wasn't cancelled as it has already improved the quality of my life after just two short weeks and I am sure it will continue to help me re-align my back neck thoracic spine and pelvis. I just hope they will take up my offer of testing a mattress topper. Believe me I hardly ever write reviews, I have probably written a handful in my whole life. And I highly reccomend that you give the SleepEasy pillow a try. If works half as well as it has for me I'm sure that you will be delighted. Stay Safe & Keep Well Stefano Lucchesi
06/16/2020
Sally H.
United Kingdom
06/14/2020
Jenny H.
United Kingdom
06/14/2020
Andrea .
United Kingdom
06/14/2020
Janis
United Kingdom
Bliss
I can't recommend this pillow highly enough!! It has changed my life. I suffered from neck , shoulder pain and headaches for years trying many different pillows but nothing helped. I have only had my pillow for a week now and already the pain has completely gone! It took me a couple of nights to get used to it but I can't stress enough the relief it has given me. Thank you so much Sleep Easy!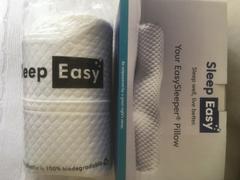 06/12/2020
Tracy .
United Kingdom
Sleepeasy Pillow
I have slept on this pillow for a few weeks now and it's just amazing. Received the case today after a few weeks wait. The guys at sleepeasy are brilliant. Any time I have contacted them, they have responded and have been reassuring. Thanks guys Take care and stay safe. Miss Elmer
06/12/2020
Rachel
United Kingdom
Amazing. Game changer!
I was a little sceptical about this pillow after having s memory foam one and I didn't need to be it's simply amazing. I've not had to take painkillers for headaches since this arrived. It's the best product ive ever bought. Hand down. Thank you Sleep easy!
Great pillow
I bought one and showed my sister and instantly brought another for her. Initial you might think its firmer than your usual pillow but you will soon sink in.